It's Wednesday. You know what that means..Midweek Randoms!
As mentioned in an earlier post, I was quite excited for the arrival of the new Prince! I found myself on the weekend watching a live feed of the hospital..which is so lame. I am even embarrassed to admit that I did that, ha! Kate looked absolutely stunning when they made their "debut" and baby looked just like any other baby ;) I think they are adorable and I love that they are trying to keep every ounce of normalcy that they can in their lives (William driving them home, putting in the car seat etc).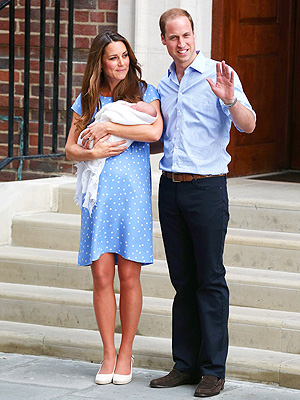 Taken from People.com
I had a fly in my condo for 3 days that I couldn't get rid of. I'd open up my balcony door to let it fly out and tried swatting at it a bunch of times with no such luck. I resorted on Friday night to putting my game face on. I actually put on gym shorts, turned off the tv for concentration and hunted the stupid fly down for about 30 minutes. Finally got it and it was an amazing feeling!!!
My coworker just booked a trip to Hawaii and I am very jealous. Dream destination. One day!
One of my friends just had an allergy test done and basically found out she's allergy to 50 million things. It makes me wonder if I should get one down but I am scared that I will then be cut off from certain foods I enjoy (ie dairy). Maybe I'll put it in my 5 year to do list! :P
A friend reminded me that Christmas is in 5 months. Yes, I have now begun the hunt for a Christmas gift for Mr. C. He is so hard to shop for!!!!
My dad is so exited to see me in less than 2 weeks. It's precious. Every day he will send me an email or text saying that he is looking forward to seeing me. I am thankful for such a loving father. Despite only seeing him once every few months (given we live in different cities), we still talk mostly every day.
Anyone that knows me knows that I have a special spot for the elderly. I saw this on the news and had to share. A 102 year old woman is still volunteering at a local hospital in a knitting club and has been doing so since 1984. She even plays on her computer to keep her mind active. Incredible and so inspiring!
http://www.thestar.com/news/gta/2013/07/23/toronto_east_general_hospital_volunteer_still_going_strong_at_102.html
What's happening on your end?