We're back for another week and I'm kick starting it with a post dedicated to cleaning ha!
I'm very Type-A when it comes to cleaning. Mess stresses me out and since I am the only one that lives in my wonderful abode (at the moment!), I really only have myself to blame when things start looking like a tornado has touched down.
Every Sunday morning for the past few years has been my designated time to clean my condo. I know for some people who live in a house or larger apartment, they like to space out the cleaning chores over the course of the week so they don't spend all day cleaning. For me, I have just under 800 sq feet of space so I don't have to spend all day cleaning. Sunday works well for me because I like to have a fresh, clean start to the work week. That isn't to say I don't clean at all during the week - I obviously wipe down my kitchen counters, do dishes etc.
Here are my go to cleaning products. Keep in mind that only one is truly "green" so don't judge! :) Perhaps over the next few years I'll start moving to more green cleaning products but for now this is what works for me!
If you know of any green/homemade substitutes for the below products, please let me know!
Pledge
. Good old pledge. I remember my mom using this growing up and it does not disappoint. I use it on all my surface areas to get rid of all that nasty dust. My place collects dust really quickly so this is a must use every single week.
Lysol Wipes
. I love these. I use them in the bathroom for a quick clean up, faucets, doorknobs etc. Wherever really! They get the job done and come in lovely scents now.
Vim
. The miracle product. Bathrooms, sinks - you name it, it gets rid of all the gunk! It has a really strong odor (hello bleach) but the wow factor makes up for the odor factor in my books! It's really cheap to purchase as well.
Weiman Stainless Steel Wipes
. These wipes are amazing. Smudges or fingerprints are eliminated with this product. I use them on my dishwasher and fridge when I feel like they are needing some extra love. Method has a product similar to this,
Steel for Rea
l
, and I am going to try it out when I run out of these.
Swiffer Sweeper Wet Jets
. I'm on the fence about these. I've been using them for a number of years and although they say they are ok on hardwood floors, part of me doesn't believe it. But, for now, I'm still using them more for a quick floor clean up.
Vim Wood Floors Cleaner
. When I want to deep clean my floors, I've recently starting using the Vim Hardwood Floor Cleaner. A month or so ago, I mentioned that I absolutely hated the Bona Hardwood Cleaner (to the point I had a splitting headache for the rest of the day from the smell). This Vim cleaner works well and has a smell that is tolerable!
Cerama Bryte
. The previous owners actually left this stuff and man, it works wonders and is very gentle/doesn't scratch up the surface. I'm so glad I randomly was introduced to this product as it's not something I would normally purchase. I only use it about once a month on my stove top.
Baking soda and vinegar.
Not shown in a picture but one of my favourite ways to clean my stainless steel sinks
.
Mix it together so it makes a paste like consistency. Smear it over your sink, let it sit for 15 minutes and then rinse it off.. It leaves my sink sparkling.
Greenworks Glass and Surface Cleaner
. This is gentle, has a pleasant smell and can be used on any surface. I like using it for my bathroom countertops and my windows. Once again, it leaves everything sparkling. What more could I ask for?
Tilex Shower Daily Glass Cleaner
. I actually just ran out of this as it's one of my favourite shower cleaners. I have two showers, one of which is all glass and it gets icky pretty quickly. A few quick sprays of this and you're good to go!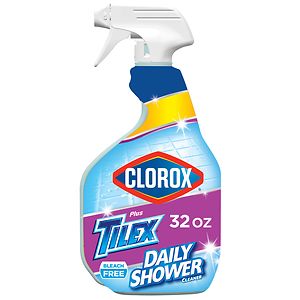 What are your favourite cleaning products? Do you use any homemade ones?
Sarah