Mr. C and I had a bit of an adventure on Saturday. We decided to check out the new Toronto Premium Outlets. It was pouring rain and freezing but we ventured out. I copied and paste the address from the official outlet website into google maps. 30 minutes away, easy directions. Done.
We had no issues making our way there. Only issue is that once we got to the intersection it was supposed to be at, according to google maps (for you locals, it was Highway 29 and Steeles), it was not there. At all. Just farmland for miles. We stopped in a random gas station to ask (because I forgot my GPS and our phones suck), and he told us to keep heading down Steeles and we'll get to it. Awesome.
ONE FREAKIN HOUR passes. I can't even describe how wrong the address was. I think that it got messed up with the Steeles East versus Steeles West. If you enter it in google maps with no east or west it takes you to the right address. If you enter in what is on their website, you will be WAY off. Local friends going, DO NOT MAKE THIS MISTAKE!
So frustrating. Poor Mr. C. I told him it was a quick 30-40 minute drive. Ha!
The Deals Compared to our Friends South of the Border
In short, they don't compare. That said, some outlets were significantly cheaper than it would be if you went to the real store (ie. Kate Spade, Adidas, J Crew) but the sales were still not as great as those in Buffalo. Considering it took 1.5 hours to get there, and takes about 2 hours to get to Buffalo, it seems to make more sense to just go to NY.
What I Didn't Like
What was also disappointing is the fact that the outlets are outside. I know this is normal for those in the states, because well, when you have nice weather year round, it's enjoyable to walk from store to store outside. WHY would they make this an outdoor mall in Halton Hills where they get SO much snow?
Parking was also horrid. I can't imagine what it will be like in the dead of winter around Christmas.
As previously mentioned, the fact that their website is wrong with their address.
What I Did Like
It's clean, modern, has great lounging areas.

Store selection is great and has a wide variety from home furnishings, mens attire, womens, childrens, sportswear, shoes.

Purchases
I tried on this coat at Kate Spade and am SO GLAD it didn't fit because it was way out of my budget but come on, isn't this the most beautiful coat ever?
Kate Spade Suzette Bow Collar Coat
This was my one purchase I did make at J Crew and I am obsessed.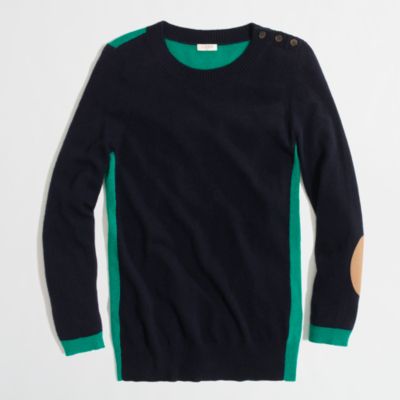 Mr. C got some basic long sleeve crew shirts at J Crew as well.

Hope you're all having a great Monday!